HMDX Quad Alarm Clock Radio Hidden Nanny Camera. This camera is not only for parents but also for working professionals.
Product Specification
What looks like a regular Alarm Clock Radio is actually recording every movement! It's totally convert and almost impossible to detect this hidden camera disguised as a regular looking Alarm Clock. The Alarm Clock Radio hidden camera features motion-activated recording that begins the second a motion is detected.  To view video, easily connect to your TV using the RCA cable or simply take a second to swap the removable SD card with another empty card to continue recording while you playback the first one on your PC.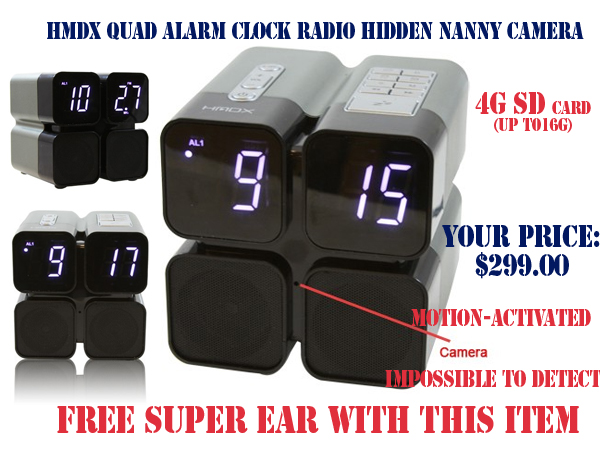 Features:
All functions are working well. Never would think that is a hidden camera!
High Resolution – SONY CCD color camera delivers crystal clear images
Removable SD card, and compatible with standard SD Card which allows you to record and store days of recording
RCA cable allows to connect with any monitor or TV to view footage
Dual alarm clock with gradual wake
Digital tune AM/FM radio with 10 station presets
Aux-in for connecting your MP3 Player
Specifications:
D1 high resolution
720 x 480 / 320 x 240 video recording
Frame Rate: 30FPS
150 grids for motion-detection sensitivity
Multiple schedule recording options
AV out and removable SD card
Operating temperature: 0 ~ 50
Includes:
HMDX Quad Clock Radio Dual Alaum Clock SD Card DVR Hidden Camera
1 x 4GB SD Card(Can support up to 16 GB)
AC Power Adaptor
RCA Video Cable
Instruction Manual
Welcome to visit our on line store for more information – EspyMall