Product Specification
This GPS Tracker Works based on existing GSM/GPRS network and GPS satellites system, this product can locate and monitor any remote targes by SMS or internet in real time.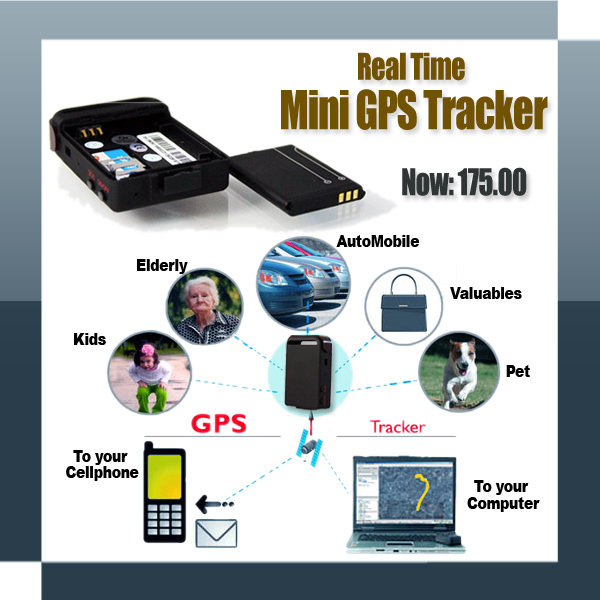 Description:
Track exactly. Can be used for preventing theft of vehicles, the protection for kids, old persons and pets, track secretly, The tracking for vehicle-renting/outdoor machines, The protection for the businessmen, Management for the staff outside, Tracking for criminals.
Based on GSM/GPRS(850/900/1800/1900MHZ)network and GPS satellite positioning system to track the far-way object conveniently by short message, internet or PDA.
Easy to find the position: No need to build special platform, checking directly by short message, internet, PDA. So it can take down the cost for the server and the customers. It also supports other kinds of platform to track.
With the antenna and battery inside, easy to carry on.
Compact size: size 46*64*17mm(1.8*2.5*0.65inch)
Standard Functions
Work on real-time tracking: to track the position by the lantitude,longitude on some digital maps.
If the object enters the park underground or some other places with no signals, it will report to you the last position tracked.
Auto-tracking: set up an interval and the times, it will report you the position information in that interval and the times.
Adding/cancelling the authorized numbers.
SOS and monitoring functions.
Geo-fence. It will alert if the tracker goes out the area set up.
E-lock: It will send SMS to the authorized numbers if it is dismounted. It will be on if the tracker stops.
Overspend limit: will send SMS to the authorized numbers if the object goes across the speed set up before.
Low power alert.
Chosen Functions
Shaking alert
Electronic lock: it will send SMS to the authorized numbers if the object puts the tracker off.
Protect from theft of car: cut off the oil and the power from far-away place.